JOURNALIST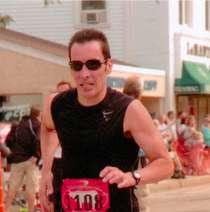 I'm a long-time contributing writer to Newsday, The New York Times, Runner's World and Smithsonian. I also contribute to Certified, the publication for fitness professionals certified by the American Council on Exercise.
My eclectic beats include fitness, health, active sports, history, retirement, museums and fine arts, as well as philanthropy and volunteerism, small business and automotive. Across all these topics, my specialty has been the human interest story—a niche that led me to memoir writing.
Over the course of my career as a freelance journalist, my work has appeared in numerous magazines, some of them still vibrant titles, others sadly vanished in the digital age. I'm still proud to have sold to such fine publications as, the Boston Globe Sunday Magazine, Entertainment Weekly, Family Circle, Fitness, Men's Fitness, Men's Health, Playboy, Reader's Digest, Running Times, Sports Illustrated for Kids and Sport, as well as American Heritage.com, Columbia Journalism Review.com, the outstanding Acela Express magazine Arrive and the equally outstanding Boston Marathon Magazine, which doubles as the official program of that venerable race.
***
June 2018: The Long Island Press Club, our regional journalism/media association, handed out its annual Media Awards on June 7. I was fortunate enough to win three! All of these stories appeared in Newsday, where I have been a contributing writer for many years.
• First place: Humor, for a column I wrote about running the NYC Marathon in 2017—30 years since the previous time I'd run it. The column was a lighthearted look at how the race and I had both changed in three decades.
https://www.newsday.com/long-island/nyc-marathon-my-turn-1.14881857
• Second place: Narrative Lifestyle Feature, for a story I did about a Boy Scout from Locust Valley who discovered an overgrown, 18th-century family cemetery in his neighborhood and who—with the help of his Scout troop and local historians—restored the cemetery as his Eagle Scout project.
https://www.newsday.com/long-island/scout-s-eagle-project-restores-abandoned-locust-valley-cemetery-1.14535816
• Second place: Narrative Profile for a story I wrote about Salvatore Cillis, a World War I solider and an Italian immigrant, who went to basic training at a camp on Long Island, saw action in France and recounted his experiences in a series of beautifully illustrated letters sent home. The letters were displayed last summer at the New York Historical Society, as part of a centennial exhibit of World War I art.
I'm particularly proud of this piece, because unlike the other entrants in this category—mostly stories about living individuals—I was writing about a historical figure, someone whose life I had to piece together and bring alive without ever meeting him!
https://www.newsday.com/long-island/long-islander-s-art-recorded-his-bonehead-brigade-wwi-stint-1.13852081
---
Read my recent work online:
---
And here are links to some of my work for Smithsonian: